Root and upgrade Colorfly E708 Q1

How to root Colorfly E708 Q1:
To root Colorfly E708 you will need to enable USB debugging in Developer Settings.
Also, connect your tablet and make sure that drivers from E708 is properly installed on your PC. Tablet will install drivers on PC on first connect. You could go to Device manager and see if you don't have any unknown Android devices.
1. Install vRoot on your computer. You can download it in from here.
2. Install that program and don't worry if program is on Chinese. There is older version of this program on English but I don't know if it will work, I used Chinese version.
3. Now connect tablet to PC and be sure that it is connected on USB 2.0 or Higher and that it doesn't lose connection.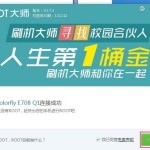 In Vroot you should see this tablet and it should be recognized.
There is green ROOT button, press on it like on picture.
Wait a few seconds, your tablet will reset and tablet will be rooted. You can install SuperSU if you don't like stock application.
_____________________________
How to upgrade to newer version:
New version of ROM won't  remove any of your apps or settings but you could do a backup with Titanium backup, Online Nandroid backup or some other so root is not required but it is recommended. Maybe later I will update this tutorial with how to install CWM and some other unofficial rom. With latest rom a lot of bugs have been fixed and battery last longer.
1. Download PhoenixUSBPro from here, install it. Just click next (N) and that will install program, accept unknown drivers.
2. Extract newest ROM from .rar archive which you can download here. This is multilanguage rom.  However there is down side of new roms since September 2013 that Colorfly decided to lower the resolution and details in menus. You have example of the right. A lot of stuff is updated but I don't like this.
Update (5/2014): You can download offical update 14.5.2015. (v4. 08) and it is Android 4.4.2. There is bad side that all your apps and stuff on internal memory will be deleted. Download v4.08 from here.
2. Open that program, it will be on English. You will get message that newer (1.0.8) version is available, update it.
3. When program is updated connect Colorfly E708 to pc and make sure that USB debugging is enabled.
4. Click on "Firmware" button on top, browse for image, click upgrade. As recommended, click No.
5. Wait for few minutes, after everything is done tablet will restart. Don't worry if first start takes a long time, don't disconnect tablet from pc.
If you don't understand some part I made a video too.
My E708 wasn't rooted after this and I needed to root it again. This time I clicked on grey icon "root" in Vroot.
All credits goes to my friend Iconic Icon who explained me this.
Link to previous versions. (note: since version 2709 screen is optimized)
If you have any questions about tablet or this tutorial you can leave it in comments.