Cubot X16 review

Basic info, purchase
Cubot X16 is a great hit for upcoming holidays and for the new 2016 -it comes with very  affordable price around $150. This is a powerful and stylish mobile phone that comes quickly from EU warehouse (without customs duties and VAT). CUBOT X16 has a thickness of only 6.5mm,  5 " Full HD display, quad-core processor MTK6735, 2GB of RAM and its powered by Android 5.1. Storage capacity is 16GB and has all the space available for the game/apps. Because of the IPS HD screen (1920 x 1080p) image display is excellent, the screen can be seen in the sun and in all conditions. The rear camera is 13Mpx and front 8Mpx. It has led notification above the screen. X16 supports 4G speed, and at my speedest with T-Mobile network catches 90/30Mbps and also supports all 3G and  2G/GSM frequencies. It ships from UK- EU warehouses without any extra costs. Banngood sells phone with this tempting price where I also bought my- link fore more info.
 Unboxing
The box comes with a cell phone transparent mask, USB cable, power adapter, quick guide and additional protective film. It is packed safely in an even bigger box then wrapped with foil.  Charger cable/ USB cable is 1m long. I think that there is already one protective screen on, I immediately take off my cell phone from transparent plastic case, personally I didn't like that cover much, I prefer to use leather case. Mobile has a little smoother back, like glass but is not slippery. This gives a particularly serious and "expensive" look. This is actually a conventional zinc alloy that is resistant to shocks and falls, stronger than aluminum. In it goes one Micro SIM and one Nano SIM card. My phone is turend on fast, with a white background and animation "CUBOT". There are no unwanted (Chinese) applications, Google Play, Gmail and Chrome are already preinstalled. Cubot X16 comes with a lot of languages available. I'll be hooked up to my HT 4G network but data traffic is not enabled.
Performance
As I have already said there is a new 64bit Quad processor MTK6735  (4x  1.3Ghz). The graphics chip is a powerful Mali T720, which runs a 1080p screen. X16 has 2GB of RAM, of which is always free around 1Gb, it allows the most demanding games and applications, fluid operation. For $140 this not all phones will alow that but Cubot X16 will. All 3D games that I tried (Modern Combat, Minion Rush, Asphalt Nitro) are spinning rapidly, as it should. It has 16GB of storage (the same partition includes space for applications and for the image / music), you will not run out of storage applications. There is disadvantage as there is no a microSD card slot but I doubt that all your movie collection and some 10 season tv series you would place on this phone to run out of storage.
Camera, photos
The biggest plus, the best thing on this phone is the camera. I'm a fan of pictures, I have professional camera but Cubot X16 is certainly surpassed all expectations. Photography is just a touch of a button on the screen and you can immediately continue to photograph and what follows is a delight. Every detail of distant skyscraper, car plates and graffiti can be seen. You can even see air grass and details of leafs. Photos are exceptional, full 13Mpx resolution, and fullHD videos (1920 x 1080p). You can even record and take pictures in the dark or enclosed areas with little light. The following are examples of pictures in a closed (superstore) and outdoors, it doesn't matter if it is cloudy or not. The front camera is also good, if you are taking selfies and sending them to friends, they will be made in good quality. If you want to see pictures in full resolution, right click on it and open the link in a new tab.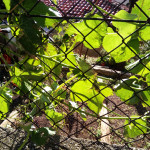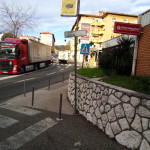 Battery, case, screen
Cubot x16 has a built-in battery solid capacity of 2500mAh. With permanently on 4G and wifi and average using, making calls and sending messages it can take 1 day and a little bit -and if you save, do not use data internet (leave 2G only), turn off wifi in standby then it can take up to 3 days without recharging.
Quite decent and more than above average. As the battery is installed, unfortunately, it is not possible just to replace battery, but that is why mobile phone is so thin and light. Case is made of high quality zinc alloy that is stronger than aluminum, the look is beautiful like some glass, just that CUBOT X16 provides modern, expensive and hard look. Five inch FullHD resolution screen supports auto light and you can see on it even on the sun, IPS display provides a variety of colors and viewing angle such that from whatever angle you look at the display is the same.
Povezivost, 4G brzina, GPS
X16 supports 4G connectivity and with T-Mobile network subscription I achieved 80-90 Mbps in download and up to 30 Mbps in upload. With 3G it can go up to 20/8Mbps. Imagine that a movie can be downloaded in less than a minute with these speeds. Inserting the card is weird way,  you need to open a sim slot with a key on the side or a toothpick and inside you need to place one micro and one Nano sim card. Wifi is also good, average, signal quality is constant. GPS is extremely accurate and well executed, without internet and any assistance for less than 5s GPS was lock. Navigation with this mobile phone is also possible.
Conclusion
Cubot X16 has surpassed all my expectations and for about $150 you get a phenomenal device. It is made of durable and high strength zinc alloy, the thickness of just 6.5mm, lightweight, 5-inch FullHD screen. With excellent camera and photo, with which every moment will turn out good, accurate GPS and durable battery. This will be a great gift to yourself or someone else for the holidays and surely anyone who uses X16 will be satisfied. It comes from England for less than 2 weeks from order and can be purchased at Banggood. In any case, I am more than satisfied and if you have any questions related to Cubot or review feel free to leave reply in the comments.