Cubot GT99, review of this great phone

Ordering, Banggood
I ordered mine Cubot GT99 on 19. July from Banggood for 137.99$ (with a -$10 coupon which I can share in comments).  Current price is a little higher, around 150$.
Specifications of phone
Before ordering I knew nothing other than that what was written on paper, not any reviews or there was review which say "everything is fine with Cubot". This is an Android phone with a 1.2Ghz quad-core processor, hardware is from Mediatek-MTK6589, and graphics processor is strong PowerVR SGX544. 1GB of RAM ensures fluid operation in Android 4.2.1 which comes with the device. It has two cameras, front 5Mpx and rear of 12Mpx. Works on all GSM/2G frequencies while 3G is working only on European 2100MHz. Only one SIM slot is working on GSM and 3G and other one is only 2G/GSM. IPS screen is quite large, with outstanding resolution of 1280x720p. The screen size of 4.5 inches is just right. If it was more I wouldn't  like it. Mobile phones with 5 inches or more cant go in to the pocket, I think it makes no sense to buy larger devices because it is then a Tablet. While the difference from 4 inch and 4.5 are small, just a few millimeters. Believe me, at first you will think that CUBOT GT99 is large phone but after one day you will get used. There are three colors of cover which you are choosing when you buy, black, white and red. The front side is always black.
Unboxing
A mobile phone is well protected in the packaging and Cubot arrived undamaged. In package is phone, battery, power adapter, USB cable and headset. Although the cell phone is black, all accessories is white. Placing 2200mAh battery in the device and placing the cover I became convinced that the case does not creak, leaves no cheap feel and it seems to be very good quality.
I must mention that phone might slightly slip from sweaty hand because of the smooth plastic and it is better to keep it in the protective case which came with the phone. After pressing power button phone is ready to use after about 15 seconds. While starting there is annoying white background and animated text Cubot and irritating sound.
Unfortunately, someone in China or Sweden has done horrible job when it applied screen protective and left me big air bubble. By mistake I left my phone in car for couple of hours and when I came back I noticed that the bubbles are gone. There, problem was solved. It comes with pre-installed Google applications like Gmail, Google Play and others, and there is no unnecessary applications that require root to be removed.
Performance
Cubot GT99 as you already know have quad processor and 1Gb of RAM, but how does this look in real life? Phone is awsome in the most demanding 3D games, like the Despicable Me, CSR Racing, Temple Run 2 etc…
Opening all applications is quick, there is no freezes. Screen precisely accepts commands and response is excellent, even if you slightly touch response is there even with protective screen. Some benchmark results are on photos.  Antutu score on the stock Android is around 13500, and after installing applications like Facebook and some games it is around the 13000. Here it can be compared with known branded phones in middle and high price range which cost more than $500. It's really incredible.
Camera; photos and videos
12Mpix Canera and FullHD video is amazing. Details of the photos are stunning, the pictures aren't blurry, the colors are there, HDR option offers even better pictures. Hand does not have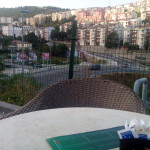 to be calm when you are taking a photo, 1080p video (FullHD) is the same quality, so good that at a distance of fifty yards you can see license plates on cars and you can even read the numbers on them. Video doesn't have auto focus every few seconds that on the other Chinese phones means blur. Here it is not noticeable, and at any time in the video you can touch the screen to focus on a specific spot.
Examples of photos made with Cubot GT99:
HDR photos:
Cubot GT99 can shoot HDR photos that often turn out better than normal. Interestingly, it saves two versions of the images first, one that is normal exposure and the second, optimized with more exposure and combined into one. Here are examples of HDR photography and then they switched without HDR.

Battery, screen, casing
The battery of 2200mAh brings 2 day autonomy in low usage or if you play games all day it can hold one day before charging. This is quite normal on Android devices, and this Chinese mobile phone has a better battery than the competition, which is mostly 1800mAh or less. IPS screen has a large number of colors, due to the high resolution, 720p movies are great displayed on screen, and in the sun the screen has quite visibility. Indeed, it is much better than the famous names and their screens. Disadvantage can be automatic lighting that sometimes work strange, it suddenly enhance or reduce background light and it is better to adjust manually . Due to lack of Gorilla glass, screen has a protective cover. However, if you hold your keys in pocket with the phone it will scratch your phone having a normal screen or one with Gorilla glass screen.
Calls, GPS, Wi-Fi
The device has Bluetooth that works ok, WiFi signal is compared to other phones normal, GSM reception is solid, and good GPRS/HSPA /EDGE connectivity when working on mobile network.
3G is working on only one of the two SIM cards. GPS, as on all MTK phones is not the strongest side. You need to follow this tutorial, and have proper application* to set the GPS to work as it should. Once this is done, the GPS accuracy is about 4m. Navigation with latest version of CoPilot Live is good, precise. First GPS locking takes about 5 seconds, after that it wont be lost. Speed ​​in applications as well as distance traveled is real, while for sport tracking applications I still need to test phone to give reliable information. Currently there is little deviation from the real track. With further checking using several applications like RunKeeper and MyTrack I noticed deviations about 4m.  In other words, when you finish your training, you would see on Google maps that you have walked on buildings and not on the sidewalk.
But the path is the same, it is just moved few meters in right or left sometimes. Unfortunately, this is problem on all MTK phones. But one positive thing is, judging by my compass applications that Cubot GT99 comes with a built-in compass. North varies from 20 degrees left or right, but it keeps turning to the approximate orientation, which is not ideal. Here we note that this is not a GPS compass, it is real because the GPS was turned off in the settings.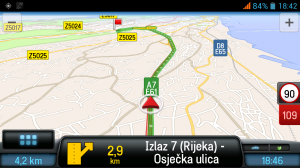 Calls and conversation are just fine. The other person can hear us without any problems even in full bus (tested), speakerphone for calls on the strongest setting is almost uncomfortable, you will need to move it away from the ear. Headphones are standard, they do not provide a great quality when you listen a music but the microphone on them works good on Skype.
The speaker on the back is very loud in the games even at the lowest setting. If you set volume on highest, all of your neighbors will know what you're listening. The speaker is really good, the sound is clean.
For advanced users: Root
Universal tool is in this file. All the instructions you need these are in this two sentences: Connect your phone, enable USB debugging, install PdaNet program that puts drivers. When the program is installed, open another folder that contains run.bat, press enter, phone will restart and it will be rooted. If you get stuck somewhere here is a video.
Conclusion
Cubot GT99 is the best. For those who do not know how much you paid for it, without stopping it will tell you $500. Let's keep our little secret that it costed less. Everything on it is great, screen, battery, impressive hardware. At any time there is about 600Mb of free RAM out of 1GB. It has a with of only 9.8 mm and weighs 148 grams. His design is unique, it doesn't copy other models, it isn't copy of some famous brand. It is Cubot, Cubot GT99. Believe me- I've tried a lot of phones, including HTC One, but I can say that if I am asked, I would rather took Cubot. I don't  see a point to give $400 more for expensive cell phone, when all what it offers I can get for $150 with free shipping and delivery within two weeks. In the future, with well-known brands I will switch to Chinese Android phones. I recommend you to buy this phone. If you have any questions, feel free to leave it in the comments.
I apologize in advance if I translated this article wrong somewhere. 😉 This is English version of my review which was originally on Croatian language.
UPDATE (15/8): Tutorial how to ROOT and install Custom ROM for this phone, Lewa, Miui…